Inspired to Be the Change, Palm Beach County Unites to Distribute $1.7 Million to Local Non-Profit Organizations at the 14th Annual Great Charity Challenge Sponsored by Fidelity Investments®
Wellington, FL – February 5, 2023 – An entire community came together to #BeTheChange and celebrate the 14th annual Great Charity Challenge sponsored by Fidelity Investments® (GCC) on Saturday, February 4, 2023. What is annually the biggest Saturday Night Lights of the Winter Equestrian Festival, Wellington International welcomed back supporters and enthusiasts. The goal of the evening: to inspire and empower others to get involved in their communities. As Wellington international transformed into candy world, riders and horses represented their favorite sweets in their efforts to build a Path to a Sweeter Future for Our Palm Beach County Neighbors in Need!
Determined to show that unity amplifies impact, the GCC is an exciting show jumping event that combines equestrian sports and philanthropy, bringing hope to more than 50 Palm Beach County charities every year. Each team is made up of 3 riders ranging from the young, futures of the sport, to top Olympians. Riders put it all on the line that night, racing to bring funds to their paired Palm Beach County organization.
Held for the past 13 years, the GCC has transformed into an inspiring community movement that has distributed a stunning $19.4 million to 300+ non-profit organizations. Each year the excitement grows and empowers more people to join the movement.
Children and their pets, as part of this year's Pet Parade and Costume Contest, had something to add to the already electric atmosphere of the night. As expected, they did not disappoint! Thanks to matching sponsor the Wedell Family Foundation and title sponsor, The Postage Stamp Farm Foundation, $50,000 was distributed to 15 pre-selected wonderful organizations! Spirit Award grants of $2,500 were also awarded again this year to four organizations who are the event's biggest cheerleaders in the community and on social media!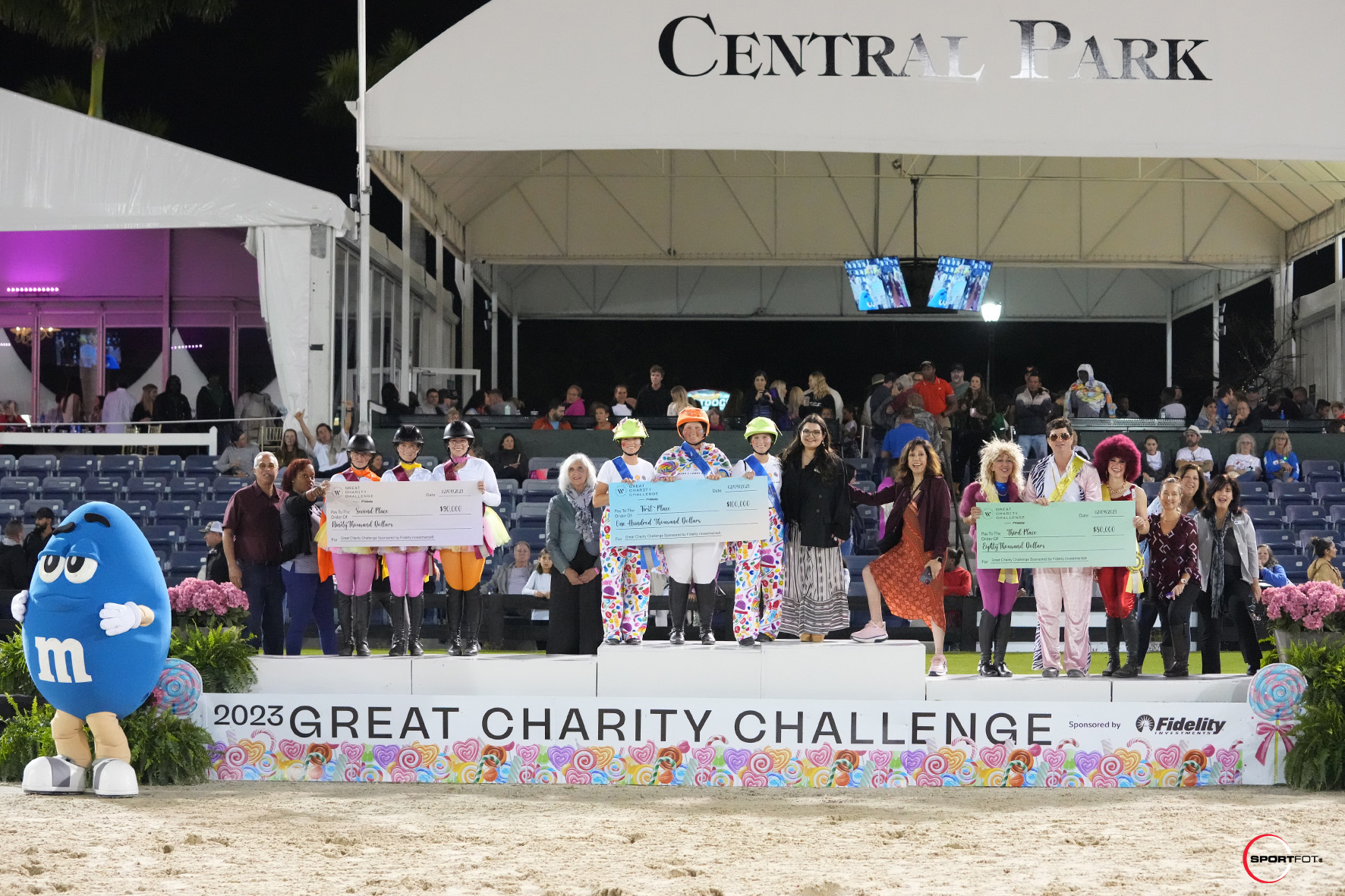 Thanks to returning supporters and new partners and sponsors, 34 organizations benefitted from the main event and an additional 37 grants were distributed to worthy non-profits. Fitting with this year's focus, The Doyle Family Foundation Volunteer Initiative promoted volunteerism by awarding ten $4,000 grants to organization's whose volunteers vouched on their behalf. For a full list of benefiting non-profit organizations and donations made to date, please visit: www.GreatCharityChallenge.com.
Partnerships, such as the one between the GCC and United Way, are what truly make this event a reality. Along with the resources to make donations simple, United Way also contributed manpower for this year's event, speaking to the importance of taking action, as well as donating.
"This year we embraced the value of the incredible partnerships the GCC has made over the years. Our goal was to empower individuals to get involved locally and provide them with the key resources to do so. I really believe this messaging speaks to the true magic of this event," commented Kelly Arani, Event and Marketing Coordinator. "This year we also set out to be a resource for those looking for volunteer work in the Palm beach community. The GCC has always been an incredible network of giving individuals and deserving organizations, so we were excited to find a new way to serve these organizations."
We invite you to fill out the following form to find local volunteer opportunities: https://docs.google.com/forms/d/e/1FAIpQLScZapZSQ16tLzGCXCJfHy0yb5irekipTl37QPKpnSerRaSIjQ/viewform?usp=sf_link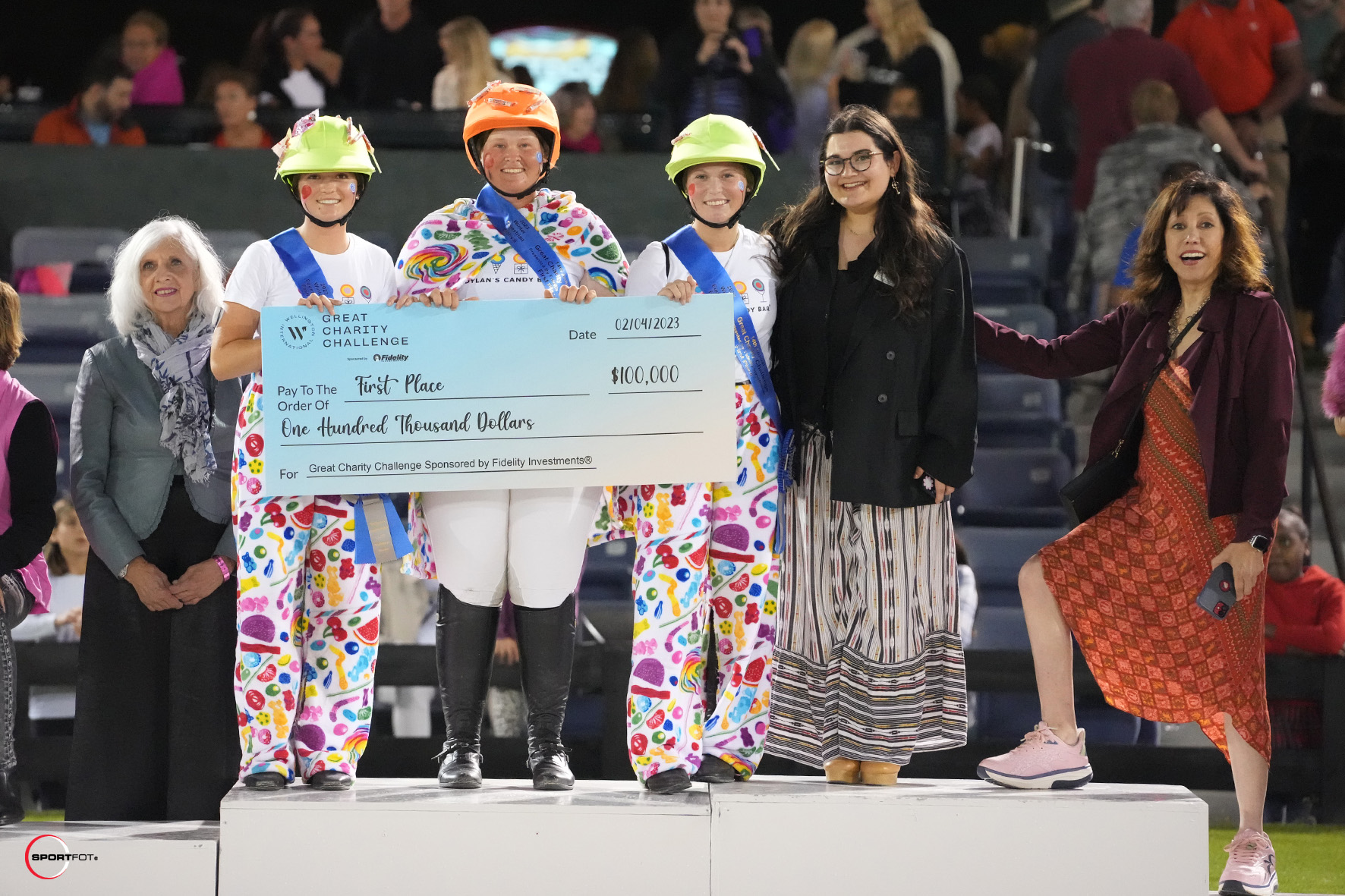 The winning team of riders: Campbell Brown, Abby Funk and Emma Hechtman, sponsored by team sponsor Frog Pond Stables and supporting sponsor Little Creek Equestrian, came in the ring representing "Dylan's Candy Bar" and finished with a time of 91.622 seconds. Their speed and team spirit paid off for Caridad Center, the largest free healthcare clinic in Florida that offers comprehensive medical, vision, and dental care for the uninsured and underserved children and families of Palm Beach County. They earned the top prize of $100,000. The sliding scale for the balance of the proceeds, down to 34th place winning a minimum of $15,000, ensured that everyone was a winner.
"We are absolutely thrilled to have been a part of tonight's event," said Lisa Kronhaus, Director of Development and Communications at Caridad Center. "The Great Charity Challenge is such a conglomeration of charities in Palm Beach County, and we are so honored to have been selected. This win tonight allows us to expand our social services and programs at the largest free clinic in Florida. We are absolutely thrilled to be able to serve the community. We serve the uninsured and the underserved in this county and we are thrilled to do this work every day."
Madison Schwarz, Manager of Development and Communications at Caridad Center echoed Kronhaus' gratitude by saying, "This $100,000 is a life changing amount of money for our clinic. It might not seem like a substantial amount but I promise you this will go directly to the underserved and uninsured here in Palm Beach County. This wonderful team of young women here – even before they competed – I fell in love with them and their heart."
Campbell Brown, 15, competed in her first GCC this year, noting, "We are a team for the first time, and it could not have gone better. We started on a high note!"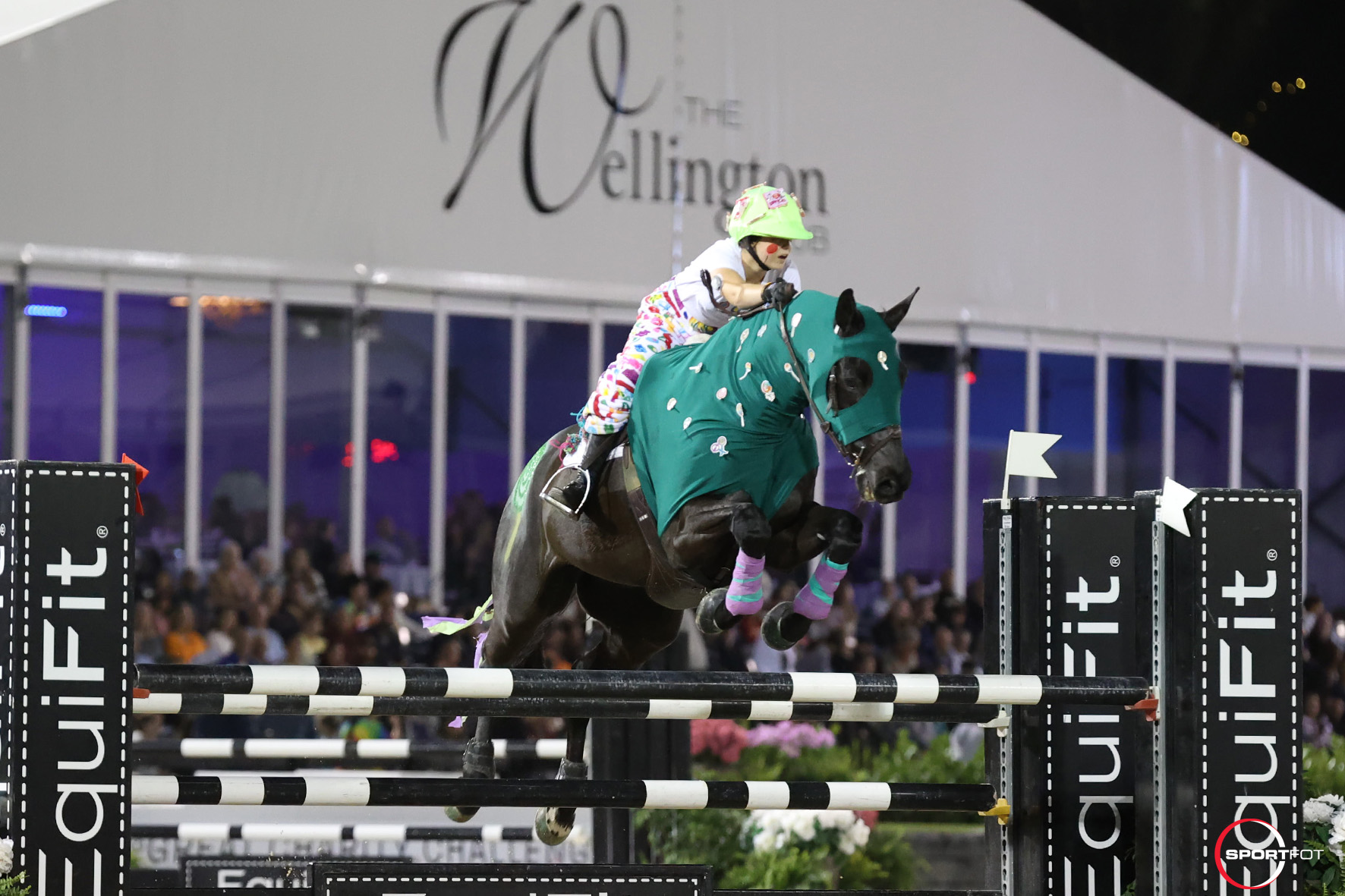 "This is my second year doing GCC and I'm really grateful for my mare," said Emma Hechtman, 17. "This is all she does for me, and we both had a really fun time tonight, I'm really happy this year for our team. Frog Pond Stables is like my second home and sponsored this team, which came together a little last minute after some riders couldn't attend. It worked out as well as we could have expected in the end."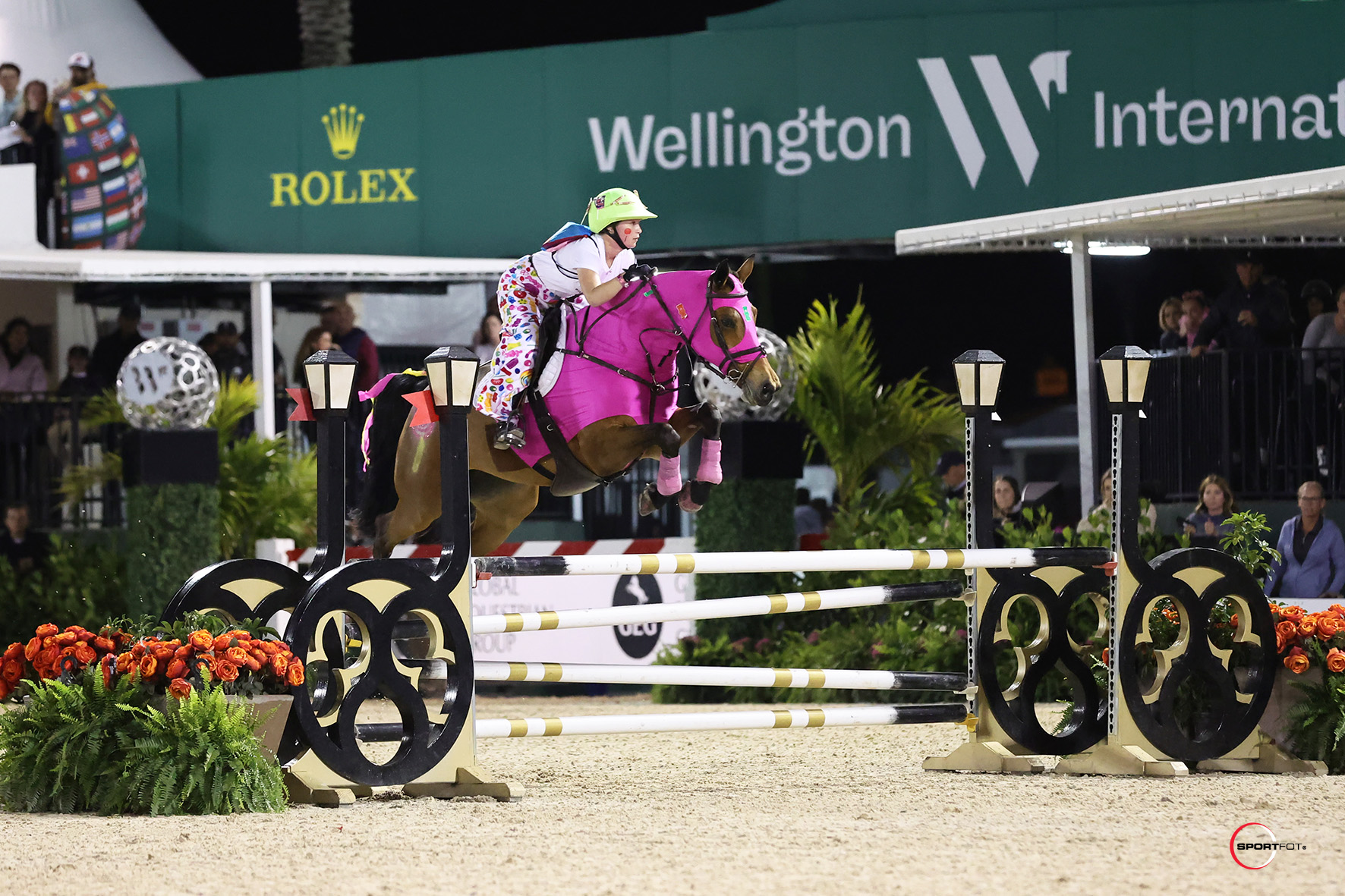 Abby Funk, 22, also made her GCC debut this year. She concluded by saying, "I'm just so happy I got to be on a team, come here and have this much fun. My horse was so good and I'm grateful for her and this event."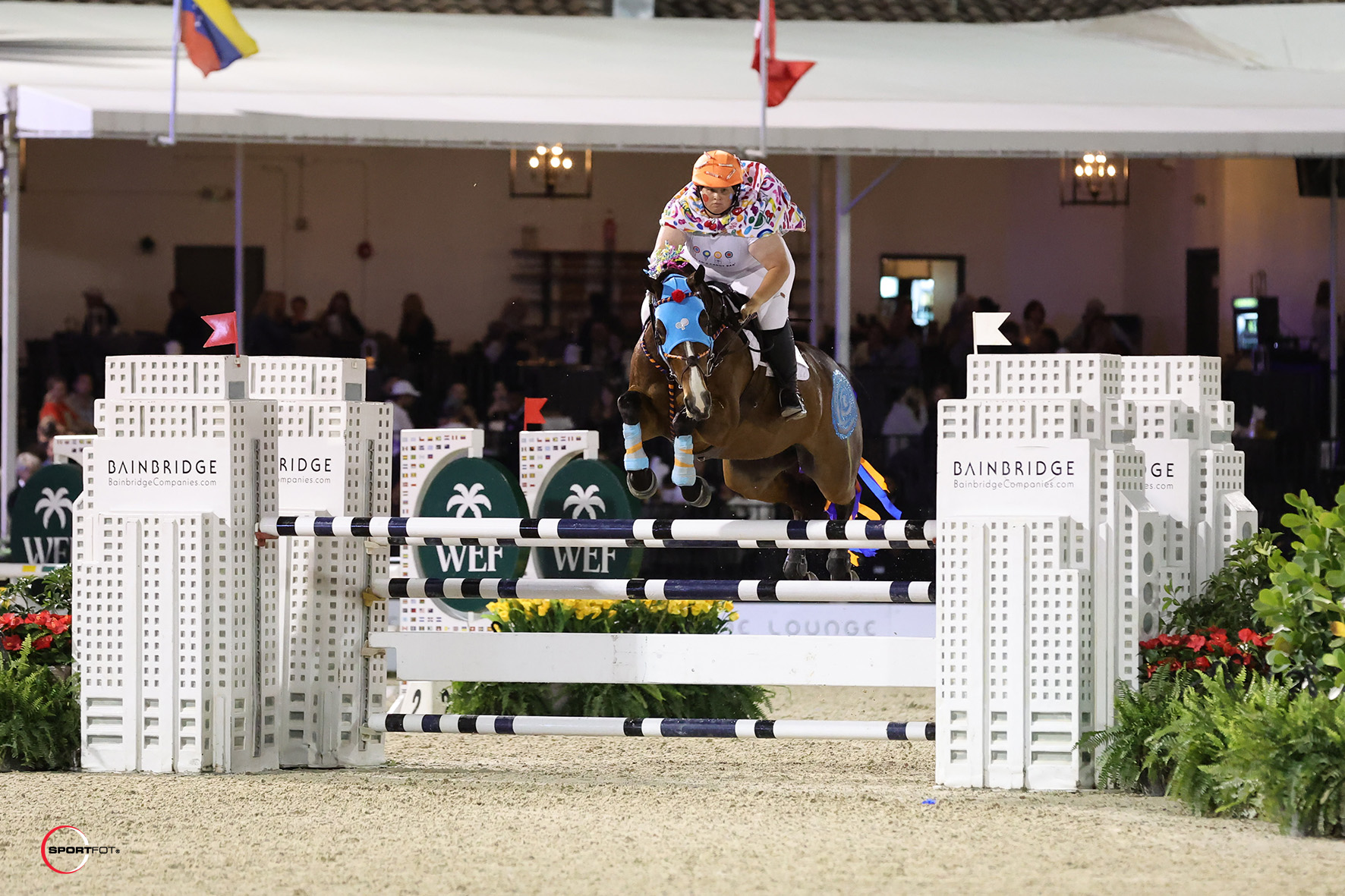 Finishing in second place was the team for HabCenter, sponsored by Lunar Dressage and supporting Campo Bahai. The team consisted of Vivian Golden, Gabriella Curry and Grace Debney, who earned $90,000 for their charity.
211 of the Palm Beaches and Treasure Coast finished third and won $80,000. The team was made up of Alex Breyer, Stephanie Garrett and David O'Brien, sponsored by Postage Stamp Farm Foundation and supporting sponsor Next One Equestrian LLC.
"I am in awe every year as to how much more excitement and support can surround the event," added Anne Caroline Valtin, GCC Executive Director. "Thanks to Wellington International's commitment to covering all costs associated with the event, one hundred percent of the funds raised go straight back to work in our community, creating long-term impact. This is what makes the GCC unique and so impactful. We simply can't thank our donors and sponsors enough for coming together to be the change each and every year."
To view the event results and a full list of benefiting organizations of the 2023 event, please visit https://gcc.coth.com/page/full-results
Event photos and fund use updates will also be shared via Facebook: www.facebook.com/greatcharitychallenge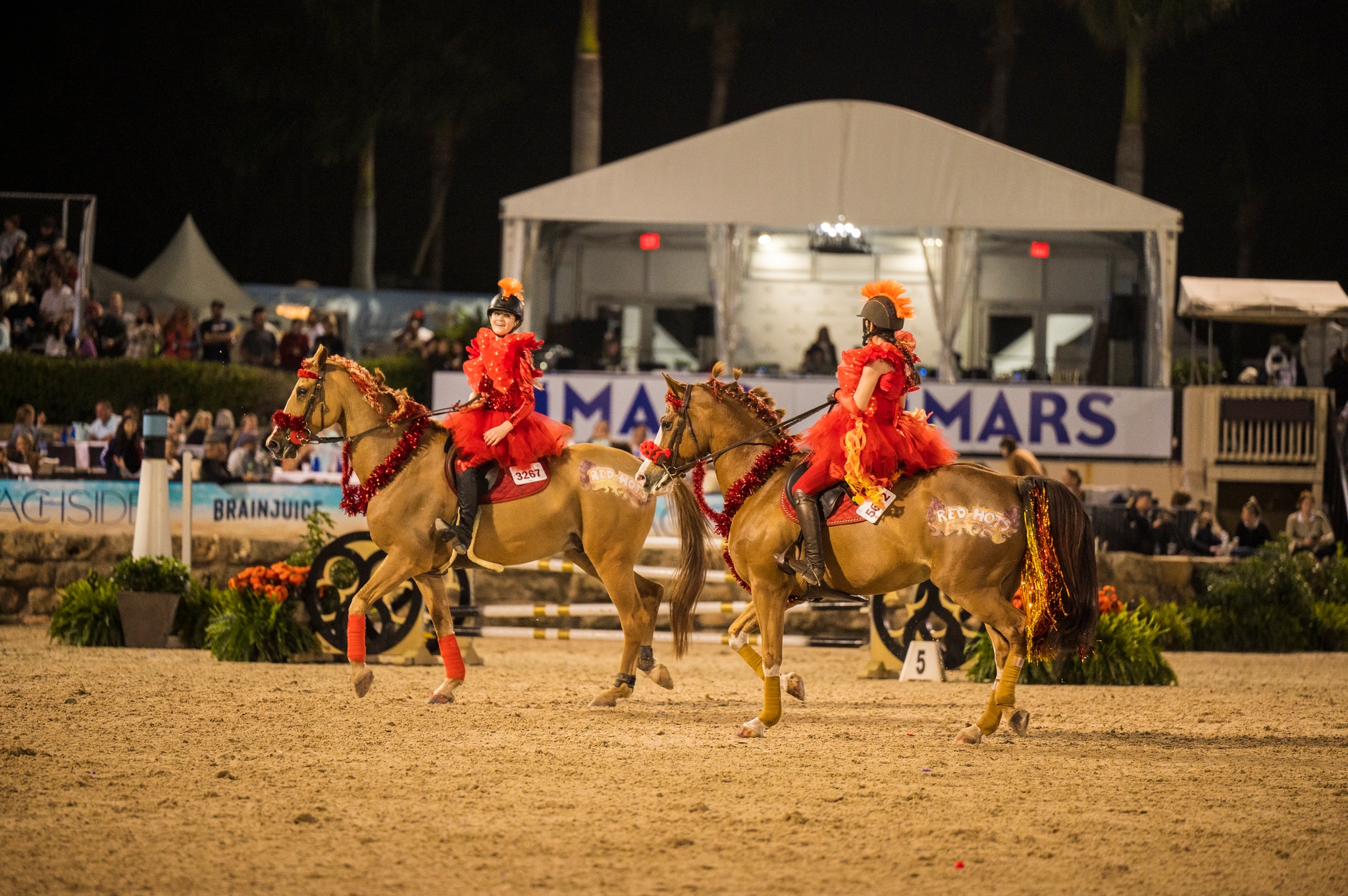 About Fidelity Investments
Fidelity's mission is to inspire better futures and deliver better outcomes for the customers and businesses we serve. With assets under administration of $10.6 trillion, including discretionary assets of $4.0 trillion as of November 30, 2022, we focus on meeting the unique needs of a diverse set of customers. Privately held for over 75 years, Fidelity employs more than 60,000 associates who are focused on the long-term success of our customers. For more information about Fidelity Investments, visit https://www.fidelity.com/about-fidelity/our-company.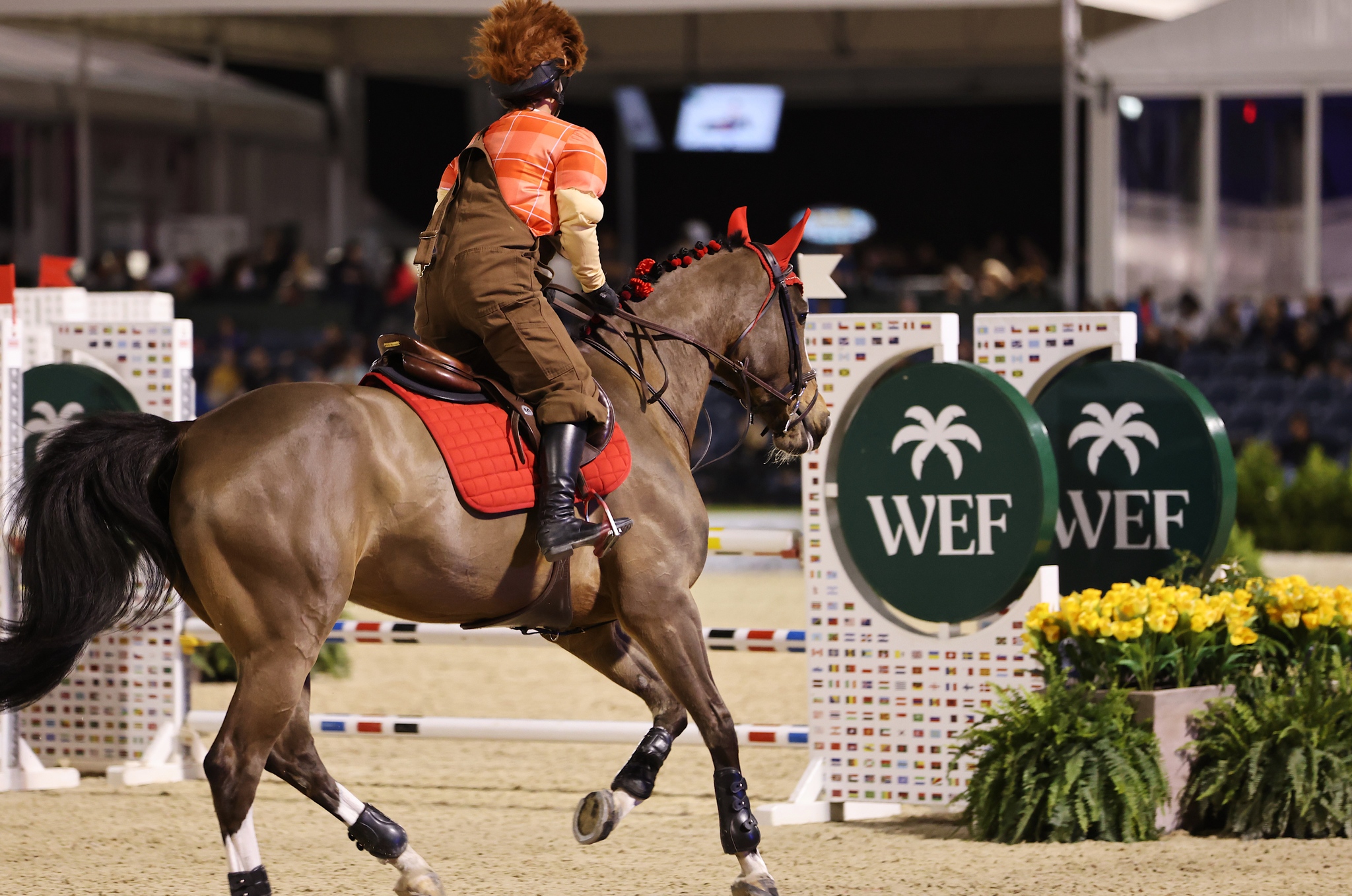 About the Winter Equestrian Festival
The Winter Equestrian Festival (WEF) is the world's largest and longest-running equestrian festival in the world, located in Wellington, Florida. Held at Wellington International, the 13-week competition features classes for all ages and levels ranging from beginners on ponies to Olympic champions at the elite level, as well as daily hospitality options for spectators and fans. WEF is managed by Equestrian Sport Productions, which is a part of the Global Equestrian Group. For more information, please visit equestriansport.com.