For Immediate Release
Wellington- February 1, 2021 – While COVID-19 has tested the resilience of our neighbors and communities, Palm Beach County non-profits have experienced a wave of hope in recent weeks. Paired with a strong showcase of unity and support, the fast-approaching annual Great Charity Challenge presented by Fidelity Investments® (GCC) will distribute over $1 million to 40+ local charities this Saturday, February 6, 2021. In direct response to the unique setting surrounding COVID-19, the event's 12th edition committed to shifting a majority of its funding priorities towards local non-profits who are directly supporting and assisting the most vulnerable and affected populations in Palm Beach County.
With 20 non-profits randomly selected during the month of December, additional organizations were drawn this past week. Organizations who have been pre-selected will virtually meet their paired equestrian teams and sponsors to receive a share of the $1+ million purse. The winning team's nonprofit will receive $100,000+ while all pre-selected participants are guaranteed a minimum grant of $15,000. For a full list of charities drawn to date (listed alphabetically), please visit: 
https://gcc.coth.com/directory/List/type/69
.
Wade Bowden, on behalf of corporate sponsor Greenberg Traurig LLP, selected ChildNet from the event's traveling lottery drum. ChildNet is a local non-profit whose mission is to protect abused, abandoned and neglected children. Schuyler Riley, representing the Dammerman, Domencich and Little Memorial Team, randomly pulled the Housing Leadership Council of Palm Beach County, a coalition of community leaders working to sustain the economic viability of the County by supporting housing opportunities for all residents through education, advocacy, and facilitating partnerships.
"A really unique aspect of this event is that it brings individuals from all backgrounds together to support the local community," commented event co-founder Mark Bellissimo. "Year after year, we are inspired by seeing change in our own backyard. There are countless charities within Palm Beach County that work tirelessly to do just that, especially since the onset of the pandemic. We are grateful to our amazing donors who give them access to additional funding, empowering them to do what they do best."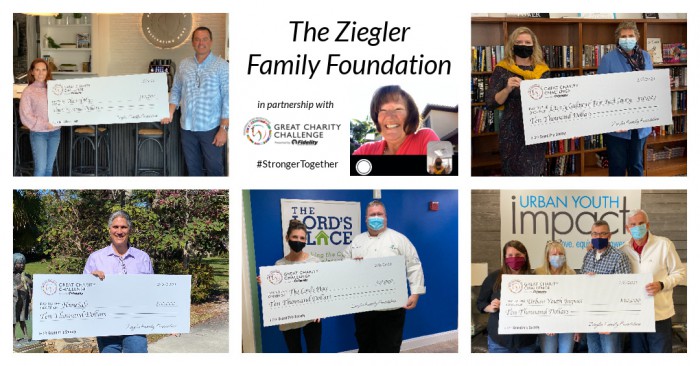 Led by the founding member of the GCC Grand Prix Society, a donor group reserved for contributors of $50,000 or more, the Ziegler Family Foundation generously awarded five $10,000 grants on Friday, January 29, 2021. The lucky recipients were surprised by an in-office visit and a giant check presentation. These organizations included: HomeSafe, the Literacy Coalition of Palm Beach County, The Lord's Place, Place of Hope and Urban Youth Impact.
"The Ziegler Family Foundation has partnered with the Great Charity Challenge since its founding. It is our honor to be able to support these great organizations that do so much to improve the lives of the neediest members of our community," commented Carlene Ziegler for the Ziegler Family Foundation.
Additional grants will be randomly awarded to local non-profits leading up to the night of the event.
Donations and sponsorships from local families, foundations, businesses, equestrians, and more, ranging from $5 to $50,000, are what make the event reach its fundraising goal of $1+ million this year. Equestrian Sport Productions (ESP), the PBIEC operating organization that oversees equestrian events at the venue throughout the year, donates the facility, staff, and infrastructure to ensure the success of the charitable event and guarantees that 100% of the funds raised are redistributed in the community.
We invite you to join this community effort – a true tribute that we are #StrongerTogether by making a donation via https://gcc.coth.com/page/donate or text "Give2GCC" to 41444.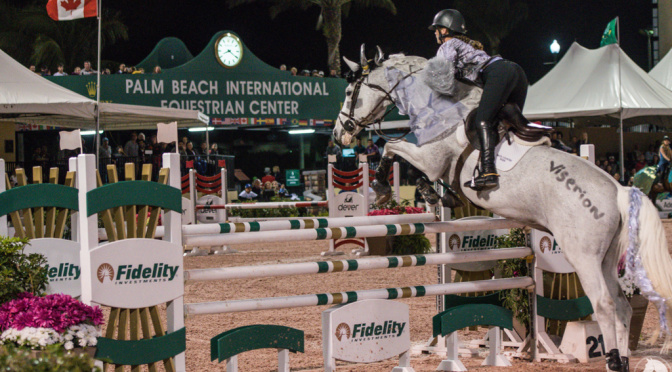 To date, the exciting show jumping competition that blends equestrian sport and philanthropy has raised and distributed $14.8 million to 256 charities. With riders dressed up in costumes and horses adorned to match them, this year's theme of #HEROES will pay recognition to heroes that stepped up during the pandemic as well as those who have inspired us to push beyond our own limits and driven us to "dream bigger".
The GCC is scheduled to take place during the 2021 Winter Equestrian Festival on Saturday, February 6, 2021 at PBIEC. To follow CDC guidelines and to prevent the spread of COVID-19, the event will be live streamed, starting at 6:30PM, via 
https://fb.me/e/1Pu33vvqT
 and 
www.PBIEC.com
.
About Fidelity Investments
Fidelity's mission is to inspire better futures and deliver better outcomes for the customers and businesses we serve. With assets under administration of $9.8 trillion, including discretionary assets of $3.8 trillion as of December 31, 2020, we focus on meeting the unique needs of a diverse set of customers: helping more than 35 million people invest their own life savings, 22,000 businesses manage employee benefit programs, as well as providing more than 13,500 institutions with investment and technology solutions to invest their own clients' money. Privately held for more than 70 years, Fidelity employs more than 47,000 associates who are focused on the long-term success of our customers. For more information about Fidelity Investments, visit 
https://www.fidelity.com/about-fidelity/our-company
.