For Immediate Release
Wellington, FL – December 27, 2021 – With a focus on empowering local communities, the Great Charity Challenge sponsored by Fidelity Investments® (GCC) is proud to present the first 25 Palm Beach County non-profit organizations who will benefit from the generosity of the equestrian industry and local community in Wellington, FL.
With 300 applications received for the chance to participate in the 13th annual event, the drawing process brought hope, excitement, and entertainment for those who followed the GCC lottery drum's "travels" between Monday, December 6, and Saturday, December 11, 2021. At stake? A share of the $1+ million prize that will be distributed on Saturday, February 5, 2022, during the Winter Equestrian Festival at the Palm Beach International Equestrian Center (PBIEC).
Through equestrian and local support, the event has acted as a catalyst for charitable giving over the last 12 years, distributing an extraordinary $15.9 million to 276 local non-profit organizations.
A total of 24 charities were randomly drawn throughout the week's festivities, in addition to the only automatic entry included in the event, representing the PTA/PTO/PTSAs of the 12 Wellington Public Schools.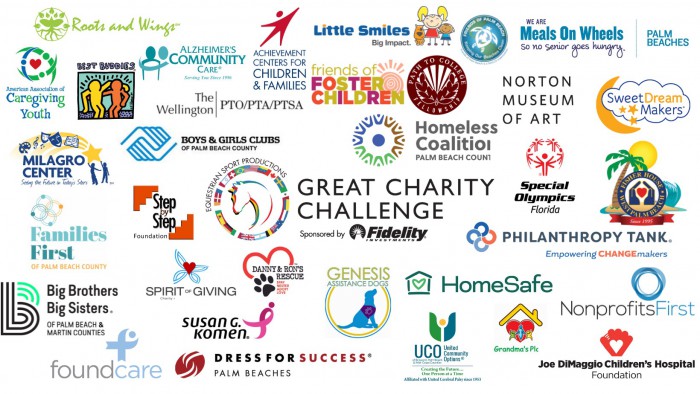 For FoundCare, a non-profit organization whose mission is to fulfill unmet healthcare and social service needs of individuals and families in Palm Beach County, "it is a great honor to be in a position to receive up to $100,000 in funds for our organization," said Yolette Bonnet, Chief Executive Officer. "We are especially grateful to Equestrian Sport Productions who produces this event every year in an effort to give back to the community we love and care for."
Sherry Wheelock, President and CEO of Special Olympics Florida added, "we are thrilled to have been selected once again as a beneficiary of the Great Charity Challenge. While excited about the possibility of our team winning the grand prize, we are equally grateful to have an opportunity to raise awareness of our mission and impact in Palm Beach County.  This year we will celebrate our 50th year of providing year-round sports training, competition, critical health services, leadership training and inclusive programming to children and adults with intellectual disabilities at no cost to our athletes or their families.  This would simply not be possible without the help of our community and organizations like the Great Charity Challenge."
The "traveling" selection format enables the GCC to highlight some of the individuals who make the event a reality, as well as those who support it in the community. Several team and corporate sponsors of the event assisted in the drawing process; these included Diamante Dressage, Equine Tack and Nutritionals, Louisburg Farm, Forget Me Not Farm LLC and Hunter Creek Farm, the Postage Stamp Farm Foundation, Silver Oak Stable, and the Lignelli Family.
Joining Anne Caroline Valtin, Executive Director of the GCC, were local community supporters including Village of Wellington Mayor Anne Gerwig; as well as Village Council members Michael Drahos, Michael Napoleone, John McGovern, and Tanya Siskind; Palm Beach County Mayor Robert Weinroth; County Commissioners Dave Kerner, Greg Weiss, Maria Marino, and Melissa McKinlay along with her Chief of Staff, Kelley Burke; as well as State Attorney Dave Aronberg.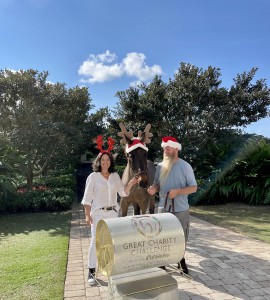 To guarantee full transparency in the selection process, all drawing videos can be viewed via the event's Facebook page: www.facebook.com/greatcharitychallenge as well as Instagram: https://www.instagram.com/great_charity_challenge/
"The GCC brings forward such a unique blend of amazing individuals," commented Valtin. "We are truly so grateful for the support of our generous donors and sponsors along with the incredible non-profits who work tirelessly to better serve the community and address local challenges. This is teamwork at its finest!"
Future charity drawings will be held at random during the first weeks of the 2022 Winter Equestrian Festival and will be shared via social media.
For a full list of charities drawn to date (listed alphabetically), please visit: https://gcc.coth.com/directory/List/type/69
Equestrian Sport Productions (ESP), the PBIEC operating organization that oversees equestrian events at the venue throughout the year, donates the facility, staff, and infrastructure to ensure the success of the charitable event and guarantees that 100% of the funds raised are redistributed in the community.
The GCC competition will offer free general admission and will be held Saturday evening, February 5, 2022, at 6:00 PM at PBIEC during WEF's "Saturday Night Lights." Free parking will be located at 13500 South Shore Blvd., Wellington, FL 33414, home to the Adequan® Global Dressage Festival show grounds.
Interested in joining the event? Donations and sponsorships from local families, foundations, businesses, vendors, exhibitors, and spectators, ranging from $50 to $100,000, are what make the event reach its fundraising goal of over $1 million every year. Customized sponsorship opportunities start at $500, while donations of all levels are welcomed. Please click here for additional information on how to become part of this movement and community effort.
For the latest event information, application process, and sponsorship opportunities, please visit www.greatcharitychallenge.com and follow the event on Facebook and Instagram at @greatcharitychallenge.
About Fidelity Investments
Fidelity's mission is to inspire better futures and deliver better outcomes for the customers and businesses we serve. With assets under administration of $11.6 trillion, including discretionary assets of $4.4 trillion as of October 31, 2021, we focus on meeting the unique needs of a diverse set of customers: helping more than 40 million people invest their own life savings, 22,000 businesses manage employee benefit programs, as well as providing more than 13,500 wealth management firms and institutions with investment and technology solutions to drive growth. Privately held for 75 years, Fidelity employs more than 55,000 associates who are focused on the long-term success of our customers. For more information about Fidelity Investments, visit https://www.fidelity.com/about-fidelity/our-company.
About the Winter Equestrian Festival
The Winter Equestrian Festival (WEF), known as the "Winter Equestrian Capital of the World," is the world's largest and longest running equestrian festival in the world, located in Wellington, Florida. The equestrian industry adds more than $100 million to Palm Beach County's economy each year and provides more 900 jobs for the area. WEF is the proving ground for the Olympic Equestrian sport of show jumping. WEF is run by Equestrian Sport Productions, which also operates the Adequan® Global Dressage Festival. For more information on WEF, please visit www.PBIEC.com.